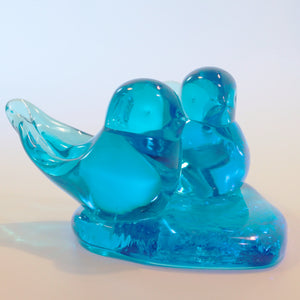 Commemorate a beautiful moment or remind your loved one of the light and joy they bring to your life by choosing this stunning hand-crafted keepsake. This beautiful, life-affirming work of art is a gift to give with pride, a gift that will be cherished forever for its beauty and for the love it symbolizes. A perfect choice for a wedding present, an anniversary gift, or a simple "joy" gift to underscore the union of two hearts.
Our original glass Bluebirds of Happiness are handcrafted in the USA. Each is a signed and dated collectible you will be proud to own or give. 
Each Bluebird of Happiness comes ready to give in a gift box and includes a gift card.
5.25" long x 4" deep x 2.75" tall (Sizes are approximate; no two bluebirds are exactly alike. You will find variations in size and color and other minor dissimilarities that are characteristic of handmade glass.)