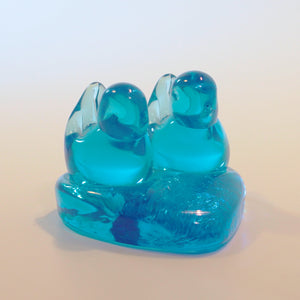 Two plump baby Bluebirds nestle together on a gleaming heart, symbolizing the trust and comfort we offer one to another. Our incredible glass artists have captured the affections and sweetness and created a perfect gift to be shared by friends, lovers, families, or siblings. This symbol of happiness and health, of comfort and light makes a perfect gift for any occasion reflecting the sentiments of the heart and hope for the future.
Our original glass Bluebirds of Happiness are handcrafted in the USA. Each is a signed and dated collectible you will be proud to own or give. 
Each Bluebird of Happiness comes ready to give in a gift box and includes a gift card.
2.5" long x 2.25" deep x 1.75" tall (Sizes are approximate; no two bluebirds are exactly alike. You will find variations in size and color and other minor dissimilarities that are characteristic of handmade glass.)