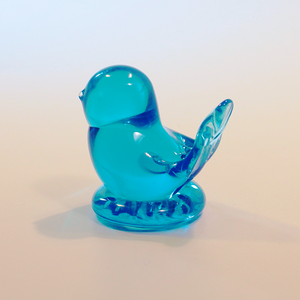 These adorable "baby" bluebirds capture all the bright beauty of our traditional Bluebirds of Happiness in a small bundle of sweetness and are perfect for commemorating an expanding family or for sending a small bright thought to a loved one at any time of year. Create an arrangement of varied sizes, start a collection, or simply remind yourself of the beauty of the day with this small and joyful keepsake. 
Our original glass Bluebirds of Happiness are handcrafted in the USA. Each is a signed and dated collectible you will be proud to own or give. 
Please note that charges on your credit card will appear as "Using Art to Create a Better World" 
Each Bluebird of Happiness comes ready to give in a white gift box and includes a gift card.
1.5″ long x 2″ tall  (Sizes are approximate; no two bluebirds are exactly alike. You will find variations in size and color and other minor dissimilarities that are characteristic of handmade glass.)