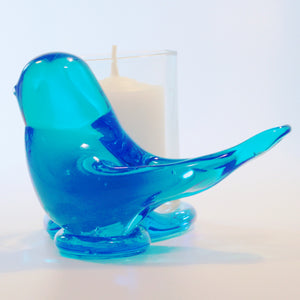 By sunlight or candlelight this glowing and joyful Bluebird brings light wherever it lands. Let a row of these art glass candle holders make a light in your window. This beautiful handmade glass memento catches and magnifies a candle flame or a ray of sunlight and makes a perfect and happiness-filled reminder of the beauty of life and the songs of color and light that each of us can find and share in our daily lives. Indeed, the more the merrier when it comes to sun kissed blue flames as they sit happily on your window sill or mantelpiece, or as a romantic addition to bedroom or bath.
Our original glass Bluebirds of Happiness are handcrafted in the USA. Each is a signed and dated collectible you will be proud to own or give. 
Each Bluebird of Happiness comes ready to give in a white gift box and includes a gift card.
4.5" long x 4" deep x 2.75" tall (Sizes are approximate; no two bluebirds are exactly alike. You will find variations in size and color and other minor dissimilarities that are characteristic of handmade glass.)