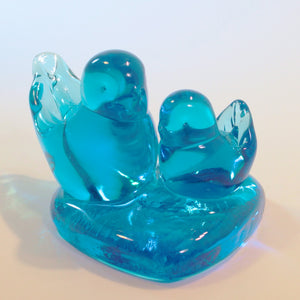 For the mother who is beginning her journey or the grandmother who has everything, what could be more perfect than this light-catching reminder of the sweetness of life? Our amazing glass artist have created a lasting symbol of love, protection, health, and happiness in this brightly colored mother nestled with a baby on a shimmering heart of hand-crafted glass. 
Our original glass Bluebirds of Happiness are handcrafted in the USA. Each is a signed and dated collectible you will be proud to own or give. 
Each Bluebird of Happiness comes ready to give in a white gift box and includes a gift card.
5" long x 3.75 deep x 2.75 tall (Sizes are approximate; no two bluebirds are exactly alike. You will find variations in size and color and other minor dissimilarities that are characteristic of handmade glass.)