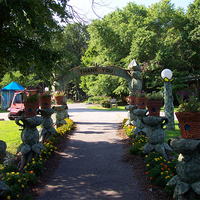 Terra Studios is a wonderland of art and the home of the original Bluebird of Happiness® and the Pink Bird of Hope®. With a six-acre art park, gallery, art classes and demonstrations, Terra Studios is a popular Northwest Arkansas tourist attraction and a family friendly destination. Come see for yourself! Terra Studios is using art to create a better world, a 501(c)(3) nonprofit dedicated to promoting local art and artists and to inspiring creativity in all who visit.
Art Park
Six beautiful acres studded with sculpture gardens, murals, sparkling glass, and fantasy creatures. Hundreds of artists have contributed to this one-of-a-kind art park in the Arkansas hills. Stroll the paths and enjoy their quiet beauty or sit by the pond to be soothed by sounds of a living landscape or move into the heart of our seven-channel stone labyrinth and experience a rare serenity.
Art Park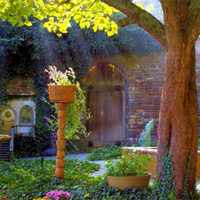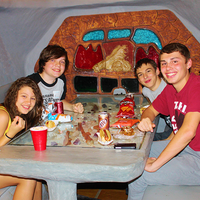 Experiences
Bring a date, take a class, book a field trip, private party or tour. Visit Terra Studios to create art or to celebrate community. From weekly events like a quick art class to Sunday Music to our yearly fun-filled fundraisers, enjoy all the fun and inspiring events offered. We host great events for children and families, seniors and couples, or you can hold your own wonderful event at Terra Studios!
Experiences
Gallery & Snack Bar
The Gallery building shelters the sunlit heart of Terra Studios. In this peaceful setting color, texture, and the sound of moving water showcase an incredible variety of beautiful and practical works of art.  When you purchase a gift in our Gallery you become part of the creative process in supporting our mission.
Gallery